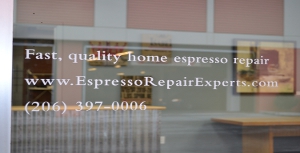 About Us
Espresso Repair Experts began as an idea in late 2011, when Josh and
Thurston were both working for one of the larger internet retailers of
home espresso equipment. It seemed at that time, that a repair center
in which the customer could not directly speak with the technician was
less than ideal. The need for an independent shop, owned and operated
by the repair experts themselves, was apparent.
We gathered our tools, left our jobs, and moved into a respectable
storefront and workshop near Northgate Mall in Seattle, where we set
out repairing machines in the best way we knew how: quickly and
accurately. We believe you shouldn't be without your espresso machine
for more than a few days (at the most!), and that you should be able
to talk to the folks doing the work.
You may visit and find us having a "spirited debate" over the design
of a particular component or machine, but it's because we love what we
do. We like to talk shop! But above all, our focus is on giving you
fast, quality home espresso repair.